CARBARITA PRESS – TRADITIONAL HAND-BOUND BOOKS
We are a small publishing house set up, in the first place, to publish some of our own, more recent books in traditional hand-sewn bindings. At this stage, we are not accepting outside commissions but may do so in the future. A very limited number of our publications under the Carbarita Press imprint will be available for sale. Details of recent publications and those presently in preparation are shown elsewhere on this site.
A former research biologist, Brian Coman returned to the Academy in his retirement to pursue a long-held interest in the Humanities. In addition to many scientific papers and book chapters, he has published a history of the rabbit in Australia, Tooth and Nail (Text, 1999 & 2010), two collections of essays (A Loose Canon, Connor Court, 2007: Things in General, privately published, 2020). A fourth book, Against the Spirit of the Age (Connor Court) was published in 2015. For many years, he was a regular contributor to Quadrant Magazine. He was awarded his second PhD in 2006 for a thesis entitled Ecology, Modernity and Tradition. Brian's many interests include literature, philosophy, bird-watching, boat-building and book-binding.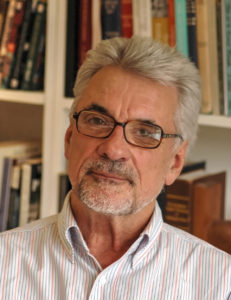 Harry Oldmeadow was formerly Associate Professor of Religious Studies at La Trobe University, Bendigo, where he taught in the Humanities for many years. He is a leading authority on the perennialist movement while his other interests include the spiritual encounter of East and West, primordial traditions such as those of the Australian Aborigines and the Native Americans, and critiques of modernity. He has published widely in these fields as well as on philosophy, film and literature. Harry's many books include Frithjof Schuon and the Perennial Philosophy (2010) and Black Elk, Lakota Visionary (2018). He has travelled widely and is a keen bushwalker and photographer; many of the images featured on this site are his.
Brian and Harry have been colleagues and friends for many years. They both live in Bendigo in central Victoria.